The Millennium Tales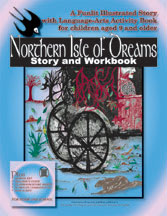 THE NORTHERN ISLE OF DREAMS
Northern Isle of Dreams tells the story of the long search for a young prince who left his war-torn kingdom, long ago, for the legendary Northern Isle of Dreams.
The beautifully produced NORTHERN ISLE OF DREAMS Companion CD features narration, sound effects and music.
READ INSIDE THIS BOOK
There once lived a wealthy merchant who owned a grand house several leagues from the Citadel of Montsuelo, at the furthest tip of the Kingdom. One spring morning the whole household was astir, preparing for the merchant's journey to the Palace of the King.
"Another long journey," sighed his wife.
"How can you look so sad!" exclaimed the merchant. "This is the greatest honour! To receive a royal invitation to Court! Just think of it!"
"But, dearest, I've heard some disturbing rumours," whispered his wife.
"Rumours? What rumours?"
"They say that the King is preparing to invade the neighbouring Kingdom of Valerdia."
"Nonsense!" replied the merchant. "Wherever did you hear such nonsense?"
"All the richest merchants in the land have been invited to the Palace, you say. Perhaps the King is going to ask them to furnish the great army he needs."
"Shhhhh, my dear lady," said the merchant, seeming a little flustered, "I beg you not to trouble your sweet sweet head with such weighty matters of state."
"Well, why else must you travel to the Palace with your chest full of gold?"
"I have no time now, my dear!" said her husband, throwing up his hands impatiently. "Make haste with your preparations! I must leave at once, or I shall surely arrive too late."
WORD WIZARD Page 1
1. ( weighty matters of state ) important decisions of the government
2. (__) to enter and occupy a city by force
3. (___) a fortress defending a city
4. (___) a measure of about 3 miles
5. (___) to give, to provide
6. (___) whispered stories
7. (___) busy, active
8. (___) rich
9. (___) nervous
10. (__) Hurry up!
NORTHERN ISLE OF DREAMS DISCUSSION QUESTIONS Page 1
1. Where is the merchant going?
2. Why is he so pleased about his royal invitation?
3. Is the merchant's wife pleased about it? Why or why not?
4. Why doesn't the merchant want to listen to his wife's advice?
5. Why is the merchant in such a hurry to leave?
Listen to CD soundtrack of Northern Isle of Dreams
FREE TRIAL DOWNLOADS


The complete play script of Northern Isle of Dreams is available now.
FREE DOWNLOAD NORTHERN ISLE OF DREAMS PLAY SCRIPT
for home or school theatre.

FREE DOWNLOADS: 4 classroom play scripts from the FUNLIT Series of Millennium Tales

Watch FUNLIT Series PROMO on YouTube
Return to the FunlitSeries
---